MTS Emergency Triage 3e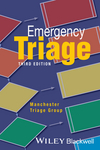 Every day, Emergency Departments are faced with increasing numbers of patients suffering from a wide range of problems; from minor illness and injury to major trauma and life threatening conditions. In order to ensure patient safety, it is essential that patients are seen in order of clinical priority and not in order of attendance.
Early Emergency Department triage was intuitive rather than methodological, and rather than being based on clinical evidence, it was based on the practitioners' own experience and clinical judgement; making it neither consistent nor auditable. The use of the Manchester Triage System ensures that a consistent approach to patient assessment and prioritisation is maintained allowing for robust audit and increased patient safety.
The Manchester Triage System is a clinical risk management tool used by clinicians worldwide to enable them to safely manage patient flow when clinical need far exceeds capacity. It is a professional, expert system and the most, rather than the least experienced personnel in the department should be using it.
The Manchester Triage System (MTS) was developed solely for registered Health Care Professionals due to the clinical skills and knowledge required in performing a triage assessment. MTG will not support organisations allowing the use of MTS by staff who are non-HCPs. In any medical negligence proceedings where the court requests evidence, MTG will send a letter to this effect.
There are 53 MTS charts which are presentation, not diagnosis based. Charts are based on what the patient says is happening, not what may be the cause.
The MTS uses common names, discriminators and definitions in order to maintain consistency, safety and to allow robust auditing.
It is a reductive system, starting from the premise that the patient is presenting with a life threatening condition and all high priority discriminators must be ruled out prior to reducing the patient priority. This ensures the safety of the system and that no serious patient conditions are missed. Decisions made regarding patient outcome are a clinical judgement made by the clinician; and as long as the MTS is used accurately the system will be safe.
Although not designed as a streaming tool, the MTS can assist in streaming patients to the most appropriate pathway of care. However, the triage priority is a clinical indicator and is absolute; the management of particular patient will depend on department priorities and services available; management of patients should never be confused with a patients clinical priority.
ECDS
Trust systems may require you to provide an Emergency Care Data Set (ECDS) Chief Complaint in addition to the Manchester Triage System (MTS) Presenting Complaint. In order to make this process easier for our Manchester Triage practitioners, we have mapped MTS Presenting Complaints to the ECDS Chief Complaints. This mapping is available
here
For information on course dates and to book a place on an instructor course
Click here
MTS Emergency Triage is now in its 3rd edition version 3.7 (updated April 2020). It is important that you and your systems remain updated. For full details on the editions and updates
click here
Last modified: Tuesday, 4 May 2021, 3:28 PM